Hometown:
Clyo, Ga.

High School:
Effingham County

Event:
High Jump


Year I/O:
Sr./Sr.

Major:
Public Relations

07/01/2015
South Carolina leads the way for the eighth-consecutive year on first-year listing
07/01/2015
South Carolina leads the way for the eighth-consecutive year on first-year listing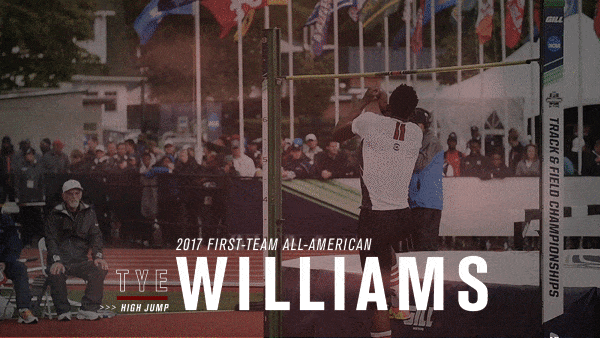 ---
2017 First-Team All-American - High Jump
2017 SEC Bronze Medalist - High Jump
2014-15 SEC First-Year Academic Honor Roll

2017
Indoors: Made huge strides in the high jump... won his season-opener, clearing 6-10 3/4 at the Clemson Invitational... cleared seven feet for the first time at the Vanderbilt Invitational, where he placed second with a mark of 7-1 3/4... added a second-place result at the Armory Invitational.... scored for the Gamecocks at the SEC Championships, where he finished sixth... barely missed the cut to the NCAA Championships, ending the regular season ranked 18th nationally.
Outdoors: Broke out as one of the top high jumpers in the nation... won the Weems Baskin Invitational, the USC Open and the Penn Relays...set a Gamecock school record by clearing 7-4 1/2 at the Penn Relays, a mark that led the NCAA in 2017... earned bronze at the SEC Championships, with a mark of 7-0 1/2... cleared three bars without a miss to earn a victory at the NCAA East Regional and qualify for outdoor nationals... entered Eugene as the number one seed and finished fourth with a top mark of 6-11 3/4, collecting first-team All-America laurels in the process.
2016
Indoors: Opened the season with a win in the high jump at the USC Open #1, jumping 6-8... finished third at the Texas A&M and Armory Invites... recorded a new personal best at the Tyson Invite, winning the prestigious meet with a mark of 6-11... that mark now ranks sixth in school history. Long jumped at the Conference Clash, hitting 22-1 3/4 to finish 20th.
Outdoors: Started his spring with a pair of personal bests, first in the long jump (24-0 3/4) on Friday followed by the high jump (6-10 3/4) Saturday... his high jump PR ranks 10th in school history outdoors... finished eighth at the Penn Relays in the high jump... finished 10th in the high jump at SECs.
2015
Indoors: Competed in the high jump and long jump... posted his best long jump of the season at the Orange and Purple Classic, finishing fifth (22-8.5)... went for season-bests in the high jump at both home meets, going 6-9 to win the Gamecock Invite and take second at the USC Open.
Outdoors: Had a top mark of 6-8.75 to finish third at the Bill Carson Invite.
HIGH SCHOOL
Four letters in track and basketball, one letter in football... 2014 Coastal Empire Track Athlete Of The Year... All Region in the high jump, triple jump and long jump.
PERSONAL
Full name is Ontonio Tyjon Williams... son of Rachel Williams and Michael Goldwire... has two siblings.
Indoor Personal Records
High Jump
2.18m | 7-1 3/4 (1/21/17 Vanderbilt Invitational)
Long Jump
6.92m | 22-8 1/2 (1/23/15 Hokie Invite)
Outdoor Personal Records
Long Jump
7.33m | 24-0 3/4 (3/18/16 Shamrock Invite)
High Jump
2.25m | 7-4 1/2 (4/29/17 Penn Relays)
Tye Williams