Hometown:
Sumter, S.C.

High School:
Lakewood

Event:
Middle Distances


Year (I/O):
R-Jr./R-Jr.

Major:
Criminal Justice

01/28/2017
Photos from the 2017 Razorback Invitational (Jan. 27-28, 2017; Photos by Gunnar Rathbun)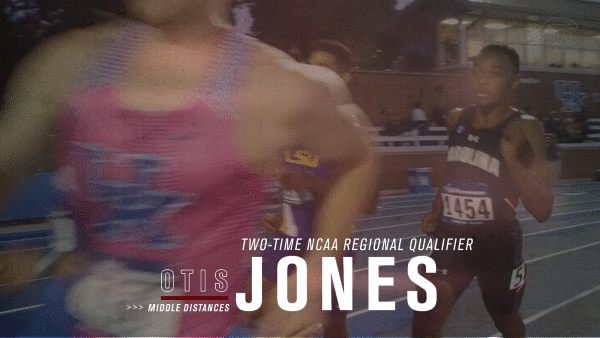 ---
2017
Indoors: Primarily competed in the 800m, running a PR of 1:49.67 at the Tiger Paw Invitational, when he finished eighth... that mark is fourth-best in Carolina history... finished 19th at the SEC Championships... also ran the 500m twice, finishing second at the Clemson Invitational and Armory Invitational.
Outdoors: Earned podium finishes three times in seven meets in the 800m... took second at the Spec Towns Invitational and the Gamecock Invitational... won the 800m at the USC Open with a time of 1:51.81... finished 12th at the SEC Championships... qualified for the NCAA East Regional... ran a season-best 1:50.10 in the NCAA first round to make quarterfinals for the first time in his career... finished 21st overall at the East Regional.
2016
Indoors: Entered his first season with the team with a high school 800m PR of 1:55.79, but ran a top indoor time of 1:51.89... finished second in the 500m at the Armory Invite... recorded a four-second PR at the SEC Championship, placing him 19th overall.
Outdoors: Showed even more growth in the spring, taking more than three seconds off his 800 time from the start of the outdoor season to the end... East Regional qualifier in the 800m... placed third in at the Shamrock and second at the Yellow Jacket Invite... ran 1:49.81 at the Seminole Invite, good for fourth place and a new PR... one-upped himself in his next meet, running 1:48.52 at the SEC Championship, putting him 10th overall... that time ranks sixth in school history, and was the program's best time since 2005... ran 1:48.91 at the regional meet, placing him 23rd overall.
HIGH SCHOOL
Won back to back state championships in 2013 and 2014 for the 800... became the first athlete in state history to win back-to-back 800 titles... holds the school record in the event (1:55.79)... three-time regional champion in the 800, and also won the 2014 regional title in the 400.
PERSONAL
Born May 12, 1996... son of Otis Jones Sr. and Sharon Livingston... has three siblings, Clarissa, Sharese and Jaihem.
Indoor Personal Records
500m
1:03.56 (1/14/17 Clemson Invitational)
800m
1:49.67 (2/11/17 Tiger Paw Invitational)
Outdoor Personal Records
400m
48.32 (4/16/16 Seminole Invite)
800m
1:48.52 (5/12/16 SEC Championship)
Otis Jones