Hometown:
Pomona, N.Y.

High School:
North Rockland

Event:
Throws


Year (I/O):
R-So./R-So.

01/28/2017
Photos from the 2017 Razorback Invitational (Jan. 27-28, 2017; Photos by Gunnar Rathbun)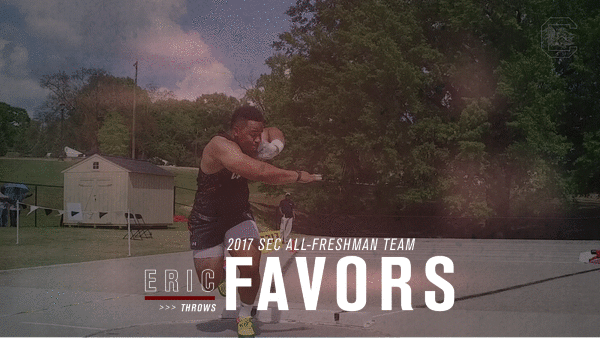 ---
2017 Indoor SEC All-Freshman Team (Shot Put)
SEC Indoor Freshman of the Week (2/21/17)
2017 SEC Academic Honor Roll

2017
Indoors: Made an instant impact in his first collegiate season... earned three podium finishes in the shot put, including second-place results at the Clemson Invitational and Tiger Tuneup... named SEC Freshman of the Week after his performance at the Tiger Tuneup... finished fifth at the SEC Championships in the shot put, tops among freshmen... his mark of 18.45m at SECs ended the season as the top mark of the indoor season by a collegiate freshman... also finished third in the weight throw at the Clemson Invitational.
Outdoors: Earned three podium finishes in the shot put, including a victory at the USC Open... threw a season-best 17.72m at the Florida Relays... finished 12th in the shot put at the SEC Championships... was an NCAA East Regional qualifier... also earned a third-place result in the discus at the USC Open.
2016
Redshirted, did not compete as an attached athlete.
HIGH SCHOOL
Came in third in the discus and weight throw at the state championship meets as a senior... state champion in the shot put for the indoor and outdoor seasons as a senior... came in second at New Balance Indoor Nationals... threw a personal best 66-7 in the shot put to finish third at New Balance Outdoor Nationals... finished third at nationals as a junior... also a standout football player, playing on the defensive line.
Indoor Personal Records
Shot Put
18.45m | 60-6 1/2 (2/25/17 SEC Championships)
Weight Throw
16.15m | 53-0 (2/10/17 Tiger Paw Invitational)
Outdoor Personal Records
Shot Put
17.72m | 58-1 3/4 (4/1/17 Florida Relays)
Discus
48.58m | 159-4 (4/15/17 Gamecock Invitational)
Eric Favors